Operational Update 3rd November 2020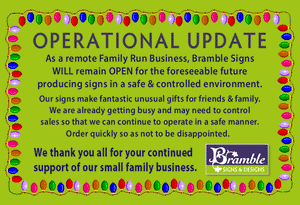 Dear Valued Customer


As a remote Family Run Internet Based Business, Bramble Signs will be able to remain Open for the foreseeable future. Bramble HQ is a hive of activity as we ramp up a gear for Christmas and the Bramble Elves are working very hard but safely.


As we get busier and to enable us to operate in a safe and controlled environment, we may at times need to reduce sales on some of our larger items. If you find an item out of stock it may come back in stock a few days later, so please do keep your eye on our website.


Unfortunately it doesn't look like we will be putting the Scrabble tiles or Stools back in stock before Christmas. We sincerely apologise for any inconvenience this may cause. We just don't have the room or man hours this items take to manufacture. Bamboo items have also been placed out of stock due to delays in receiving new supplies of bamboo.


As we near Christmas we will be working around the clock to ensure all signs are dispatch in time for Christmas. At the moment standard signs are usually dispatched within 7-10 days from proof approval and larger items, shaped signs and free-standing signs are usually dispatched within 10-15 working days. These time scales will be reduced in December.


Please be aware that as all UK carriers are still experiencing unprecedented demand, it may take a little longer than usual to deliver your item. Some Royal Mail items are still taking a little longer to arrive. Larger items are usually delivered via our courier within 24hrs from shipment.

Please do keep an eye on our blog post as we find it the easiest and quickest place to share any operational updates and always up to date with the latest information.
For useful everyday questions about our signs and products, we have a Q & A section on our website here: https://bramblesigns.co.uk/pages/questions-answers
Sign fitting facts: https://bramblesigns.co.uk/pages/sign-fittings-faq
We would like to thank all of our customers for your custom over this very busy and trying time, your business is very much appreciated and invaluable to our small family run business.

Leave a comment
Comments will be approved before showing up.
---
Also in Blog
We have a limited number of Freestanding ladder signs now back in stock.