Getting Back to Normal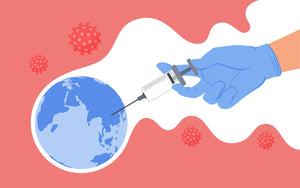 2020 and 2021 has been very trying times for the entire world struggling with the pandemic. It has been tough at Bramble HQ juggling the increased workload as the country shopped from home. With customers needing to be easily found for deliveries, the increase in sign demand was huge. Our staff were off self isolating and obeying government rules but we were fortunate and blessed with our daughter Kyra's help. She worked with us 7 days a week for months on end as we worked to dispatch signs and orders as quickly as possible, knowing how import it was our customers could be easily found by the import food and parcel deliveries. Her own plans for a travelling gap year abruptly brought to an end with the start of Covid.
We consider ourselves extremely lucky, we live and work in a very remote area and we were able to carry on through the pandemic and the 3 lockdown periods whilst keeping safe and ensuring we followed the social distance protocols with our delivery drivers and Post Office staff. A big shout out to all postal and delivery drivers, you did an amazing job while putting yourselves at risk day in and day out.
In January Brexit brought yet more challenges. We were finding all of our suppliers struggling with stock and increasing their prices, from timber to paint to postage. We struggled receiving some supplies as they were caught up in customs. Box manufactures struggled to cope with demand and lead times quadrupled. Timber is still ever increasing in price and our timber supplier has increased prices 4 times this past year as timber yards across Europe remained closed for the best part of a year. Despite this, they have still managed to keep our supply of top quality oak coming through to us, for which we are extremely grateful.
We always do our utmost to keep price inflation to a minimum whilst continuing to deliver the highest quality products. Unfortunately, due to price increases levied by our timber suppliers and our other suppliers we had no alternative but to pass a small proportion of this on by increasing our prices across the board in the past few weeks. As always, we maintain our commitment to providing you with excellent service and the highest quality signage.
As things begin to feel like they are getting back to normal as the nation are vaccinated it feels like we can all breath a sign of relief (hopefully no more staff pinged on the NHS app). We survived not only the pandemic but the most trying period of our lives.
We would like to take this opportunity to thank all of our customers for your business. Our customers support has been especially appreciated over this past year and a half.  Things here will soon start ramping up for Christmas so until then, Take Care and keep well and enjoy the sunshine.
Kindest Regards
James, Debbie and The Bramble Signs Team
Leave a comment
Comments will be approved before showing up.
---
Also in Blog
We have a limited number of Freestanding ladder signs now back in stock.